Seekas Bluetooth Beanie combines Fashion, Function and Favourite Musics All in One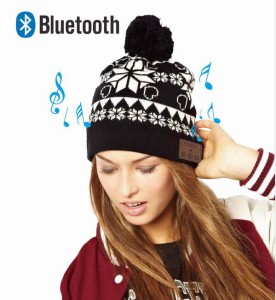 When people say headphone or earphone, we know it's a pair of small loudspeakers that are designed to be held in place close to a user's ears for listening to musics. People love musics and many people especially young boys and girls tend to listen to tunes when they are walking, jogging, cycling, waiting for bus, waiting for subway, walking dog, etc. In chilly weather, people have to wear the earbuds under a beanie/hat or headphone over a beanie/hat, it's really uncomfortable and inconvenient and sometime it looks strange. Why can't we create a stylish beanie combined with a bluetooth headphone? This idea is just behind Seekas' Bluetooth Beanie, which can give you connection to your faourite musics from your smartphone wirelessly, whenever and whereever! Fashion, Function and Favourite Musics, who says you can't have them all!
Fashion
From our website http://www.seekastech.com, you could see our many different designs with different colors. It's just our neutral designs, there are hundreds of designs from our customers are now show here. With full experience team behind, Seekas could customize any beanie designs from customers, just send a beanie image, we could make it out to be a bluetooth version beanie. Welcome OEM orders.
Function
Keep head and ears warm when listening to musics from iPhone, iPad, Samsung and other smartphones and tablets wirelessly, make and receive calls.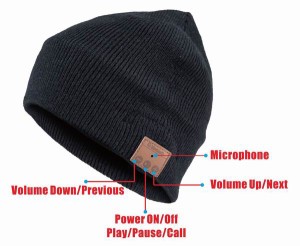 How to pair? Press the middle button for 3 seconds to red/blue light flashing, search available bluetooth device in your Bluetooth Settings and connect Bluetooth Beanie with your mobile phone.
How to control? Short press to achieve NEXT/PREVIOUS, long press to achieve VOLUME UP/VOLUME DOWN,
short press middle button to achieve PLAY/PAUSE.
How to make/receive a phone call? Press the middle button to ANSWER/HANG OFF a phone call. Press the middle button by 2 times to MAKE A CALL.
One size beanie fit most heads.
The electronics are removable for beanie washing.
Specifications
1) BQB Certificated Bluetooth Chip, with EDR Tech
2) Transmission Range: 10M/33Ft
3) Rated Power: RMS 10mW x 2;
4) Speaker Unit: 32Ω/30mm;
5) Frequency Response: 20HZ-20KHZ;
6) Battery: 3.7V Certificated High Quality 100mAh Rechargeable Li-ion Battery;
7) Standby Time: Over 60 Hours;
8) Play Time: Over 5 Hours;
9) Charge Time: DC 5V Approx 60 Minutes;
10) With Over current, Overcharge & Overheat Circuit Protection Design on PCB.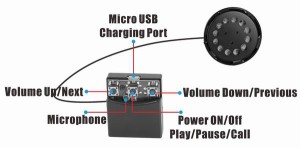 Warning
Long-term exposure to loud music may cause hearing damage. It is best to avoid extreme volume when using
this product, especially for extended periods. For your own safty, please be aware of your surroundings when
using this products.
Contact Information
Email: sales@seekastech.com
Tel: +86 755 89583985
Fax: +86 755 89583960
Website: www.seekastech.com
Contact us at any time if you have interest in our products or company, welcome OEM and ODM orders.
相关文章